Laser Man of Connecticut:
On-Site Laser Printer Repair, Service, Supplies, Toners & Maintenance.
SAME DAY On-Site Laser Printer Service and Repair.
YOUR company SAVES TIME and MONEY.
You get the CORRECT SERVICE from AUTHORIZED Technicians.
We use the CORRECT PARTS for your Specific Equipment.
We use OEM and Compatible Products.
We provide EXPERT, RESPONSIVE and FRIENDLY Service.
We come to you, with the SPECIFIC Parts YOUR Equipment Needs.
We offer FREE Cleanings of all Laser Printers and Faxes. When was your equipment last CLEANED??
We come with the right TOOLS and EXPERTISE needed to get the work done RIGHT.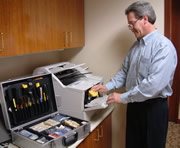 Laser Man of Connecticut
Phone: 888-775-5600
Norwalk, CT 06851