Laser Man of Connecticut:
Free Pickup and Delivery!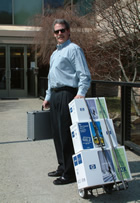 Laser Man of Connecticut delivers On-Site Same Day Service for Laser Printer Repair, Supplies, Toner and Maintenance.
With our FREE Pickup and Delivery, YOU SAVE time and money because the RIGHT Service, The Right Parts and the RIGHT EXPERT COMES DIRECTLY TO YOU!
We happily serve all of lower Farifield County, Connecticut.
Give us a call today at 888-556-5600.
Laser Man of Connecticut
Phone: 888-775-5600
Norwalk, CT 06851